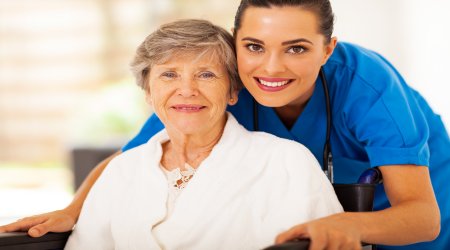 HealthNow Home Healthcare works with certified nurses and healthcare professionals to offer home medical services and treatment programs in the San Francisco Bay Area. Our services include speech therapy, diabetes management, blood pressure management, and an array of other medical-related treatments. We work with the best nurses and therapists to deliver the highest quality of care. HealthNow Home Healthcare has more than 300 franchises across the United States, employing nurses, aides, therapists, and other skilled healthcare professionals. Our professionals deliver 25 million hours of home care to 190,000 patients every year.
In-Home Care
Our in-home care services are cost-effective and very popular with patients as they take place in the comfort and convenience of their own home. HealthNow Home Healthcare professionals provide medical care, therapeutic services, wound care, and recovery programs after a hospital stay, accident, surgery, or when transitioning from a care facility. Home care is the best way to transition from a medical facility or hospital stay. HealthNow Home Healthcare's skilled professionals work with an array of patients ranging from children to seniors.
Healthcare Supplemental Staffing
Healthnow Home Healthcare franchises provide temporary, contract, and permanent staff solutions for clients across the country. Services are offered at various locations including nursing homes, hospitals, schools, prisons, clinics and physician offices. HealthNow Home Healthcare provides travel opportunities for healthcare professionals. Contact us for a free consultation today.
Contact HealthNow Today
HealthNow is Bay Area's top rated and licensed Home Health and Hospice Agency.
We Offer
:
Personalized Care Plans
Personalized Medical Services
Skilled Nursing
Physical, Occupational, Speech Therapy
Dietary Counseling
Medical Social Work
Grief and Bereavement Services
Spiritual and Pastoral Services
Hospice Care
We care for your family as our own.
Call Now

:

888-808-5226
Fax

:

415-854-0492